For our 2024 event calendar, please visit our EventBrite page.
Webinar: The Myth of "Pre-settlement" Eastern Deciduous Forest: Changing Ideas About its History and the Importance of Humans on the Landscape
July 28, 2020 @ 7:00 pm

-

8:30 pm

$10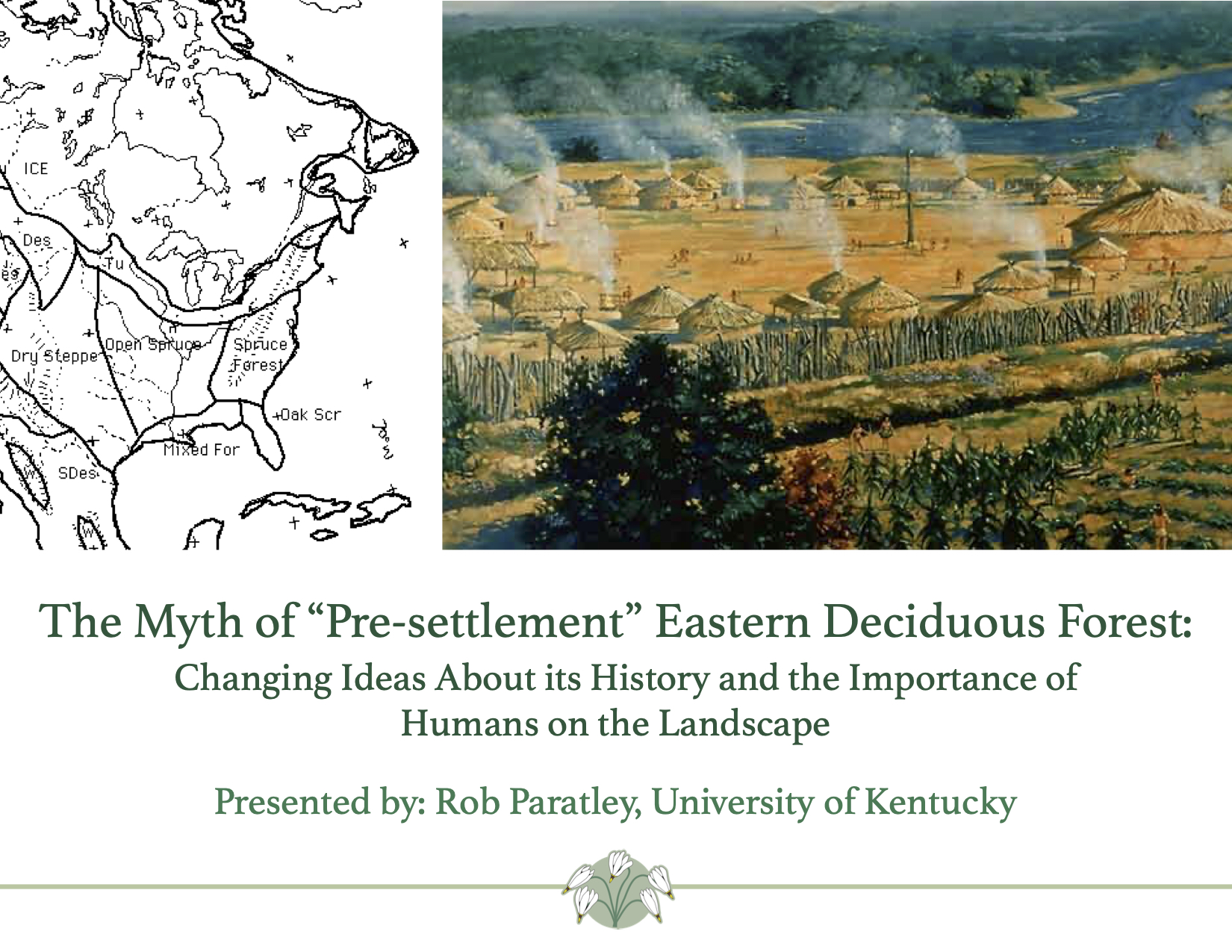 The Eastern Deciduous Forest Formation stretches from southern Canada to the Gulf of Mexico, from the Atlantic seaboard to the river valleys of the Great Plains. These forests, were, in just a few centuries after Europeans first dropped anchor, largely cut over or converted to open land. What were these forests like before the arrival of Europeans? How far back in time did forests resembling those we see today exist in the eastern part of the continent?
Attempts to reconstruct the so-called "pre-settlement" history of eastern forests have been made by ecologists, forest historians, and Quaternary geologists and climate scientists throughout the 20th Century to the present. How have our ideas about the age, condition, and processes controlling deciduous forests changed since the pioneering plant ecologists first tackled the question? And, critically, how have our views changed concerning the role of the continent's first peoples in shaping the forest's structure and composition?
Evidence from pollen cores and archeological studies now tells us that the most important missing piece in early attempts to tell this story was the significant presence and impacts of indigenous Americans. Ignored, sentimentalized, or discounted by early researchers, the native peoples are now considered an important part of an emerging picture of eastern forests as dynamic systems. They hunted, foraged, burned, cleared portions of the landscape, and, in places, managed their forests to maximize yields of the resources that sustained them.
"Pre-settlement" eastern deciduous forest is therefore a myth, one that taps into the stories we've told ourselves of an untrammeled American wilderness, glorified by the 19th Century Romantics and American Transcendentalists. In this program we'll explore some of the ways our ideas about the development of eastern North American forests have dramatically changed, especially by incorporating the keystone ecological presence of humans on that landscape. We can also discuss the implications of these ideas to contemporary efforts in ecological restoration, habitat preservation, and our concept of wilderness.
A link to the webinar will be emailed to all registered participants before the day of the event.
Instructor: Rob Paratley, University of Kentucky, Forestry and Natural Resources
Refund Policy: Refunds are permitted for cancellations made at least two weeks in advance of the event. No refunds or transfers of fees will occur if the request is made less than two weeks prior to the event. To request a refund, email info@floracliff.org.
Weather Policy: For the safety and enjoyment of our visitors, all programs are subject to cancellation due to inclement weather, including rain, wind, and severe weather warnings and advisories.