Forest Birds of the Palisades w/ Ben Leffew & Michael Patton
May 7, 2022 @ 8:00 am

-

11:00 am

$15.00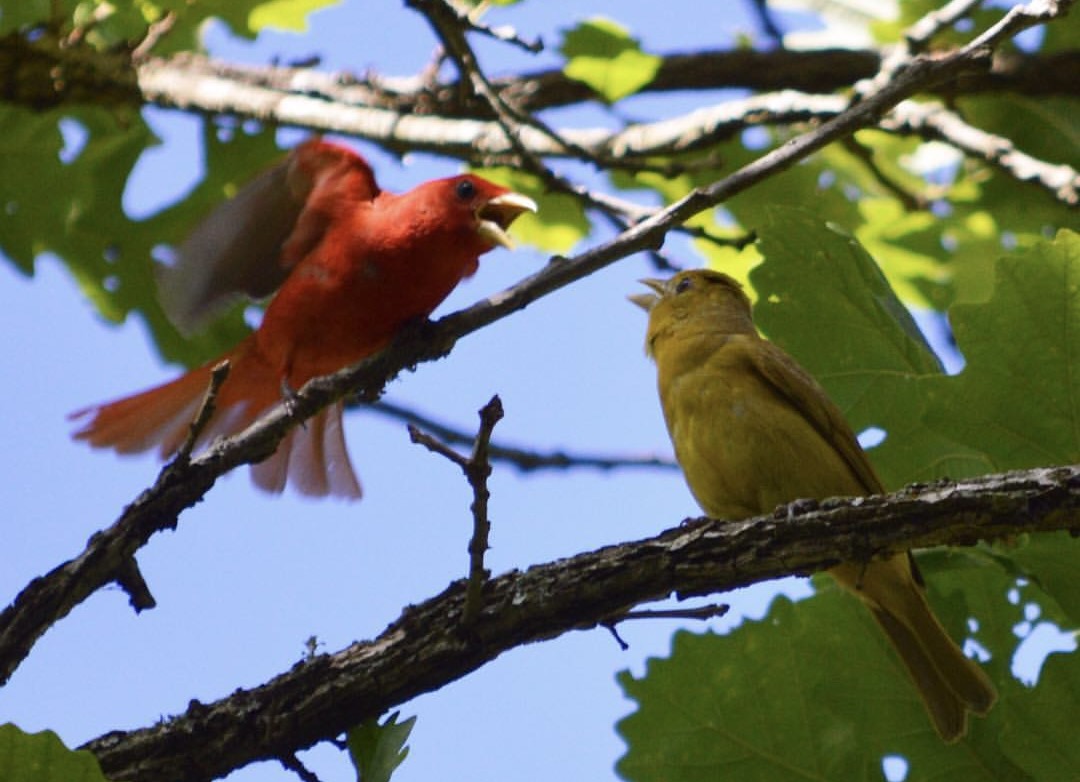 Hike Leaders: Ben Leffew, Preserve Manager at Shaker Village; Michael Patton, Avian Biologist at Kentucky Department of Fish and Wildlife Resources
Kentucky birders Ben Leffew (Shaker Village) and Michael Patton (KY Department of Fish and Wildlife Resources) will lead this hike featuring the diversity of birds that use the forests of the Kentucky River Palisades. Ben and Michael will teach participants to identify birds by sight, sound, behavior, and habitat. This program takes place during peak migration and will prepare participants who may be interested in Global Big Day and other community science birding programs.
For this program, we are partnering with Shaker Village of Pleasant Hill to highlight birds of the Kentucky River Palisades region. Join us directly after this hike for an afternoon program at Shaker Village that will feature Grassland Birds of the Kentucky River Palisades. Registration for the afternoon hike must go through Shaker Village. Register here for the Shaker Village program here: https://shakervillageky.org/events/birds-of-the-palisades/
**All minors participating this program must be accompanied by a participating adult.
Hike distance and difficulty: 1.5 miles; rated moderately difficult, due to steep and uneven terrain; there may also be some slick spots near the creek
Bring: water
Optional: hiking poles, snack, camera
Please note: The Nature Center is open for restroom access only. Masks are currently required indoors.
COVID-19 SAFETY PRECAUTIONS AND GUIDELINES: Floracliff does not require fully-vaccinated individuals to wear masks during outdoor programs as long as adequate physical distance (6-feet) can be maintained between others outside of one's household/pod. Floracliff continues to recommend unvaccinated individuals wear a mask throughout all programs, especially when adequate physical distance cannot be maintained between others outside of one's household/pod.
All program participants and Floracliff representatives, both fully-vaccinated and unvaccinated, should have a mask available during programs in the case that adequate physical distance cannot be maintained. We are happy to provide one to you if necessary.
*These guidelines are subject to change at any time according to current state and CDC guidance.
Refund Policy: Refunds are permitted for cancellations made at least two weeks in advance of the event. No refunds or transfers of fees will occur if the request is made less than two weeks prior to the event. To request a refund, email info@floracliff.org.
Weather Policy: For the safety and enjoyment of our visitors, all programs are subject to cancellation due to inclement weather, including rain, wind, and severe weather warnings and advisories.